Greenville's Dent Repair Specialists
Welcome to DentSmith
Hail Repair Shop: 2825 New Easley Hwy Greenville SC 29611
Door Dings
Let us take care of those unsightly door dings and minor dents on your vehicle. Whether it's from another car's door or a run away shopping cart, DentSmith can make it look like it never happened.
Large Dents
Does your vehicle have a large dent without any paint damage? Contact DentSmith for a free evaluation to see if it can be repaired with our Paintless Dent Repair (PDR) method. Call us at 864-363-6824.
Hail Damage
DentSmith specializes in repairing hail damage. PDR is the preferred method of repairing hail damage on your vehicle. We work with all insurance companies and will get your vehicle to pre-storm condition.

Who We Are
Stephen Padgett, a Greenville native, started DentSmith in 2001 after learning the art of Paintless Dent Repair. Since the beginning of DentSmith, we have not only serviced dealers, body shops and retail customers in the Upstate, but have traveled across the country to service areas that have been struck with damaging hail storms. DentSmith has built a foundation with repair centers, insurance companies and other Paintless Dent Repair companies and technicians across the US, allowing DentSmith the access to knowledge of the best PDR processes and technicians in the country. DentSmith uses the latest tools and techniques as well as an old school work ethic to assure you the best repair possible. When you choose DentSmith as your PDR repair provider you can rest assured that you will receive the highest in quality and service guaranteed!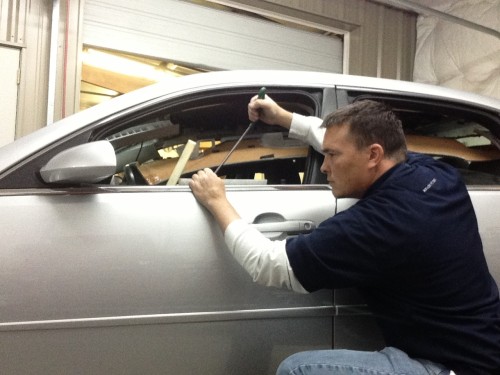 More About Us

PDR Nation Certified
DentSmith features one of the only Certified technicians in South Carolina. With new technology and materials in automobiles expanding more and more each year, education and certification is key to having the knowledge to ensure each vehicle is repaired properly. Learn more about the PDR Nation Certification
here
.

Go Green!
Paintless Dent Removal (PDR) eliminates the need for fillers, primer, and paints used in conventional auto body repair. Without the use of any harsh chemicals, Paintless Dent Removal prevents unnecessary harm to the environment while also retaining your vehicles value by keeping the factory finish intact.

Satisfaction Guaranteed
DentSmith guarantees our repairs for as long as you own your vehicle. We want to make sure our customers are completely satisfied. If for any reason we do not meet your expectations, let us know and we will correct it or there will be no cost to you. DentSmith strives for excellence on every repair and your satisfaction is guaranteed!

Insurance Approved
DentSmith works with all insurance companies and we are happy to assist you with the claims process. Paintless Dent Removal is the preferred repair process for minor dents and hail damage for all major insurance companies. If you have hail damage, nut damage, or minor dents with no paint damage, call us at 864-363-6824.
FAQs
Frequently Asked Questions

What Is Paintless Dent Repair?
Paintless Dent Repair (PDR) is the process of removing minor dents, dings, and hail damage without sanding, priming, and painting. Special tools are used to massage the backside of the panel and repair the damage without effecting the factory finish. PDR is the only option that can return your vehicle to true factory condition.

Will PDR Damage My Paint?
No, Paintless Dent Repair will not damage your paint (as long as performed properly). The factory paint on today's vehicles is very flexible and will not be damaged from the PDR process. It is important to make sure you only use a certified PDR technician for your repairs. You can find certified technicians
here
.

Why Should I Choose PDR?
Paintless Dent Repair is the only repair process that allows you to keep your factory finish and won't diminish the value of the vehicle. Most dents can be repaired while you wait versus 3 to 5 days in the shop. No harmful chemicals are used in the process, which makes PDR a environmentally friendly repair.

Will Insurance Pay for PDR?
Absolutely! Paintless Dent Repair is the insurance industry's preferred method of hail damage repair. Minor dents and door dings may cost less than your deductible and may be best to not even file a claim. In the case of larger damage, we will work with you and your insurance company on what the best option is for your repair.
Clients Have Said
"Our vehicles were damaged by hail twice in three years and Stephen with DentSmith repaired both of them each time. He did an amazing job on both each time! Hopefully they don't get damaged again, but I know who to call if they do!"
James M
"This man does a very good job! He got the dents out of my new car and you can't even tell there was a dent! Great Service!"
Josh B
"I am very pleased with the work that Stephen Padgett with DentSmith performed on my car. I had a ding in the rear door, my car looks brand new again! Stephen is professional and takes pride in his work. I would definitely do business with him again. I recommend his services to anyone. Outstanding job!!!"
John S
"Steve did a great job removing the dent from the door of my truck, could not of asked for a better job. Also, he did a good job coordinating the time to accomplish the work with me. If I ever need this type of work again, Steve would be my first call. Thanks!"
Mark M
"My car looked like it was never damaged. Stephen was very professional. Highly would recommend him to anyone. So glad I found him :). Thank you."
Geeta A
"I had Stephen fix a fairly large dent in a new 2013 Avalon. I have to say, Stephen does excellent work. He is very professional, on time and certainly takes pride in his work. Using him saved us over $500. Thanks again."
Steve B
"What a fantastic job Stephen done I had a dent in my Bentley gt side door he came and took great care of it like it was never there he's very professIonal and got the job done quick and for a good price I would call him again for sure."
Jeff V
"Absolutely the best dent fixer around. My hail damaged car looks show room new. I would recommend Stephen to anyone with a dent problem of any kind."
Gary
"My husband had our used car repaired of door dings that really bugged me. but not anymore. Dentsmith did an awesome job. better then expected. repaired beyond expectations. thank Dentsmith. fantastic job!!!"
Mary G
Our Blog
Otkrivamo Tehniku: Kako Nasi Profesionalci za Internet-ovane Igranje Otkrivaju Najbolje Promocije" Nas tim posvecenih online kockarskih profesionalaca konstantno traga za najunosnijim kockarskim promocijama. To nije osnovan zadatak, jer pretrazivanje bezbrojnih online kazina i ocena njihovih promocija je zadatak koji zahteva potpun angazman…. Read More
Contact Us
Contact Us
[iphorm id="3″ name="Contact Us"]

Call Us
Phone: 864-363-6824
Toll Free: 888-62-DENTS
Email:
[email protected]
Working Hours:
Monday to Friday 9.00A.M. to 5.00P.M.
Hail Repair Location:
2825 New Easley Hwy Greenville SC 29611 Call us today to make an appointment.
Serving Greenville, Travelers Rest, Taylors, Greer, Easley, Piedmont, Mauldin, Simpsonville, Fountain Inn, Pickens, Woodruff, Inman, Lyman, Duncan, Wellford, Clemson, Seneca, Walhalla
We accept cash, checks, and all major credit cards.